Equipping Counselors in Local Churches
Master of Arts in Theological Studies: Counseling Focus
The MATS Counseling program is designed  to equip biblical counselors for practical ministry with a balanced theological curriculum. The primary goal for the program is to train aspiring pastors who want to be better equipped in biblical counseling. The program is also intended for the benefit of non-pastors, both men and women, who desire to counsel well under the authority of local church pastors.
"One of the great and beneficial revolutions that took place in the 20th century was the rebirth of biblical counseling, Jay Adams, in Competent to Counsel, reminded the church that counseling was the responsibility of the church. Pastors and even other (instructed) Christians were seen to be responsible to counsel on the basis of the sufficiency of Scripture alone. At CBTS we embrace that vision; and we want to further it by adding another emphasis to our Master of Arts in Theological Studies. Its distinctive advantage will be to place this counseling emphasis firmly in the context of theological studies!" -Dr. Sam Waldron (CBTS President)
A Balanced Theological Curriculum for Biblical Counselors
Lead Faculty – Counseling Core
"Counseling that rests on the Word of God, that is informed by the light of nature, and that is attentive to the complexities of humanity is a great need of our day. Training within the seminary context provides the counselor with the benefit of both theological and practical training and seeks to particularly assist those who are counseling within the context of the local church. This new program offers students the ability to learn within a Confessional context and focus their studies on the work of counseling as a supplement to the public means of grace within the context of the church." – J. Ryan Davidson
J. Ryan Davidson is a Ph.D. candidate at the Free University of Amsterdam, researching pastoral theology in the early church period. He is a graduate of Samford University (B.A.), The College of William & Mary (M.Ed.), and Southern Baptist Theological Seminary (Th.M.). He currently pastors Grace Baptist Chapel, a Reformed Baptist Church in Hampton, VA. He is married to Christie and they have four children.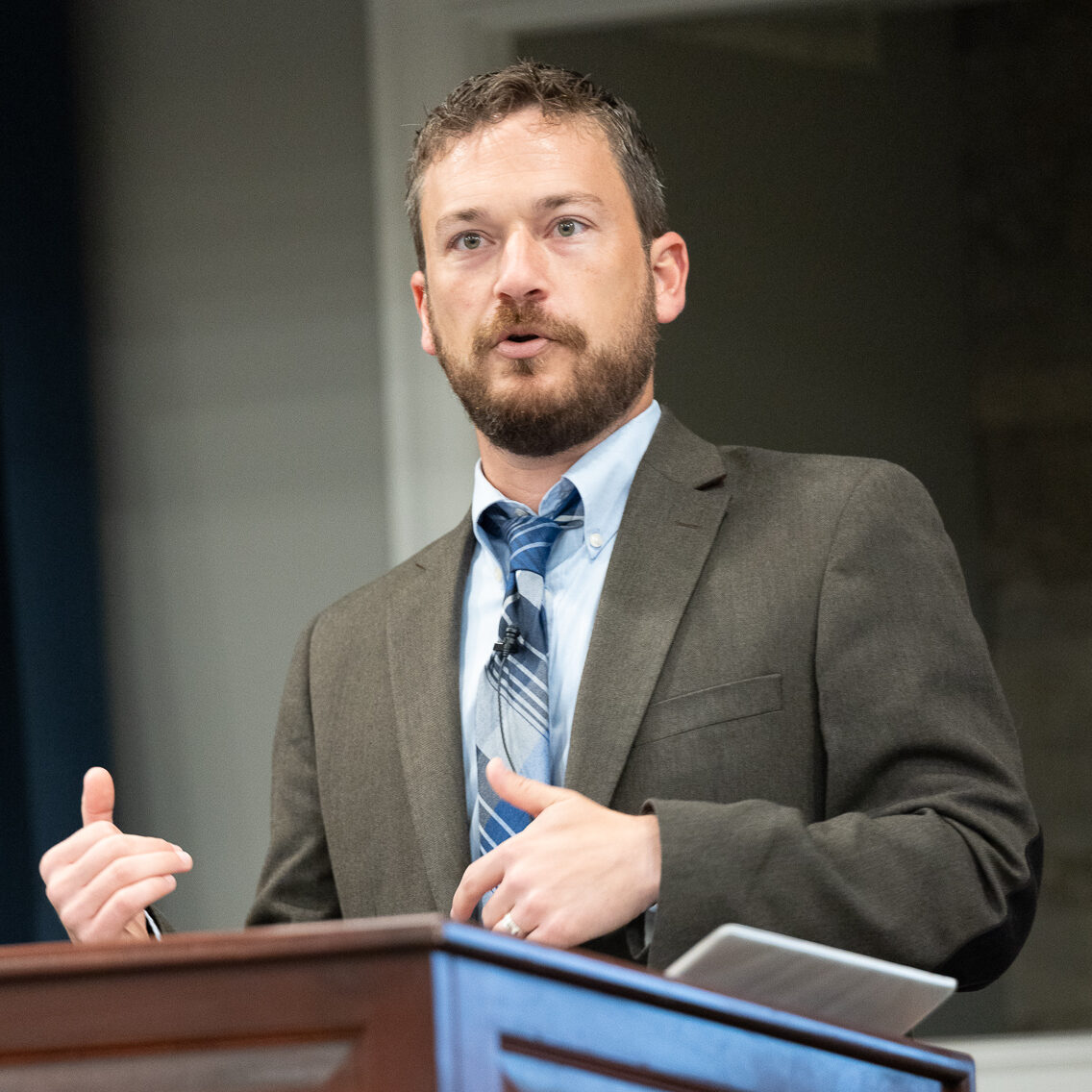 Old Testament Introduction (3 hr.)
New Testament Introduction (3 hr.)
Hermeneutics & Biblical Theology (3 hr.)
Elementary Greek I (3 hr.)
Elementary Greek II (3 hr.)
Symbolics (3 hr.)
Doctrine of the Word (2 hr.)
Doctrine of God for Counseling (2 hr.)
Doctrine of Man & Ethics (3 hr.)
Doctrine of Christ & Salvation (3 hr.)
Historical Theology Overview (3 hr.)
Counseling Core (total 21 hr.)
Introduction to Biblical Counseling (2 hr.)
Marriage & Family Counseling (2 hr.)
Case Studies in Biblical Counseling (2 hr.)
Advanced Biblical Counseling – Research (3 hr.)
The History of Counseling & Pastoral Care (2 hr.)
Biblical Counseling & Legal Issues (2 hr.)
Counseling & the Body (2 hr.)
Biblical Counseling in the Local Church (2 hr.)
Counseling Children & Adolescents (2 hr.)
Counseling Practicum (Mentoring (2 hr.)
Counseling Electives (4 hr.)
Case Studies in Biblical Counseling: Addictions (2 hr.)
Case Studies in Biblical Counseling: Gender & Sexuality (2 hr.)
More Elective Classes TBD…